BikePacking tips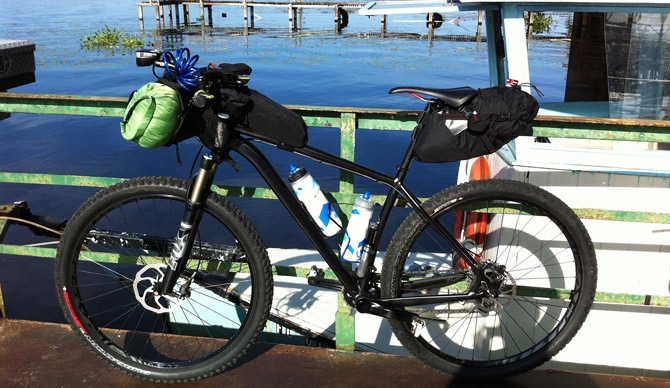 BikePacking Tip # 1 Cycling Backpacks Get Heavier Every Mile
Is your cycling backpack limiting you?
When you first start bikepacking, it's easy to just load up a cycling backpack with gear, top off the water bladder, strap it on and go!
Now, I'm not trying to say you can't do that, all my gear fits in a backpack. I know because a "HAWGNV" ( Camelback ) was my first purchase when I discovered bikepacking. It was great! I fit a lot of stuff in there (i.e., hammock, sleeping bag, tarp and food). However back in 2011, I decided to train for the "CFITT race". While training, I used an HR monitor to track my fitness. One thing that had me baffled was that every time I passed the 55-60 mile mark, my heart rate spiked for the remainder of the ride.
One day I was pushing to a 70mi finish and miscalculated my half way point. I ended up at my house 10mi short. Not wanting to miss the mark, I quickly dropped off my camelback, grabbed a bottle and off I went. I noticed on that 10mi wrap up, that I progressively felt stronger with every mile. That's when I started paying attention to my heart rate. It had dropped to a very sustainable level and never went back! That was my "Ah Ha!" Moment. The weight of the backpack was putting stress on my body. It didn't feel heavy to me but it did to my body. So now I always move the weight to the bike to keep the stress off me. There are many people that always ride wearing a cycling backpack and thats great if that's what your used to. However I would encourage you to take the time to run your own diagnostic tests with a heart rate monitor to see if you could get a performance boost by ditching the cycling backpack. You may be surprised by what you learn about your body.
HUGE Cycling Inventory at Mountains Plus, SAVE on Bikes and Accessories plus FREE Shipping! Click for Details!